Editorial: The Ten Best Gambling Songs If you're looking for a soundtrack for your next blackjack session or poker MTT, then try Gambling Planet's top ten gambling songs. Musicians will sing about anything if it will guarantee them a hit, and many of them have gotten lucky singing about gambling. Some sing about poker, some sing about winning the lottery, some sing about a trip to Vegas and others just sing about luck in general. We cover ten of our favorites (plus one funky honorable mention) below.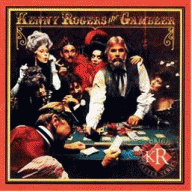 Kenny Rogers – The Gambler
Kenny Rogers' quintessential poker song "The Gambler" (off the 1978 album of the same name) is an obvious pick for our list. More than thirty years after the single topped the pop charts as a country crossover hit, the lyrics continue to offer sound advice for poker and for life. In fact, the first line of the chorus--you got to know when to hold 'em, know when to fold 'em—is advice that Gambling Planet echoes on many of our strategy pages.
Elvis Presley – Viva Las Vegas
For 45 years, Elvis Presley's hit "Viva Las Vegas" has been the unofficial theme song for Sin City, and for that alone the song deserves a place in our top ten. The King sums up the city in 33 lines and in the process gives shout-outs to at least five different casino games (blackjack, poker, roulette, slots and craps).
Frank Sinatra – Luck Be a Lady
Frank Sinatra's Las Vegas visits with the Rat Pack are legendary. While he wasn't the first artist to cover "Luck Be a Lady," his is the version that will go down in history. While the song never directly references gambling, it's plea to Lady Luck has long been sung at casino tables.
Lady Gaga – Poker Face
The newest addition to the gambling music repertoire is Lady Gaga's provocative 2009 techno-pop hit "Poker Face" which features off-kilter gambling references like "I'm bluffin' with my muffin" and "roulette isn't the same without the gun."
ABBA – The Winner Takes All
ABBA's sugary sweet ballad about love gone wrong dominated pop charts across Europe. The song first compares a failed relationship with a losing hand and then with a judged competition.
The Clash – Three Card Trick
Legendary punk rockers The Clash pay tribute to con jobs with the title and final lines of their political anthem, "Three Card Trick." While we've all probably felt screwed by the cards before, the song is actually using the three card con game as a metaphor for an unfair world.
Charlie Major – I'm Feeling Kinda Lucky Tonight
The music video for Charlie Major's 1997 country hit features a trio of Vegas showgirls in a cornfield. The opposite of ABBA's "The Winner Takes All, this song compares new love to a winning hand of poker.
Charlie Daniels Band – The Devil Went Down to Georgia
"The Devil Went Down to Georgia" is probably most famous for its fiddling, but it's also a great story about the biggest prop bet you can make. The title character wagers his soul for a shot at a golden fiddle, but he's got to beat the devil at a showdown before he can claim his prize.
Mary Chapin Carpenter – I Feel Lucky
Mary Chapin Carpenter's 2003 country hit sees the narrator win an eleven-million dollar lottery and makes this comment on gambling and superstition: "the moral of the story, it's simple but it's true/hey the stars might lie, but the numbers never do."
Dean Martin – Ain't That a Kick in the Head
"Ain't That a Kick in the Head" is a song about the biggest gamble of all: love. While Martin never specifically mentions gambling, the song's opening line of "how lucky can one guy get" has earned it a place on many gambling movie soundtracks.
Honorable Mention: O.A.R. - That Was a Crazy Game of Poker
Jam band O.A.R. first hit it big in the 1990s when their single, "That Was a Crazy Game of Poker" became a cult hit on college radio. The song begins with a story about a crazy game of poker, but the lyrics quickly become confused. O.A.R. has been known to play 20-minute versions of the song at live concerts (must have been a crazy and LONG game).