The Best of Las Vegas: Downtown Casinos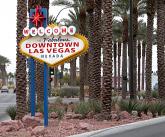 In previous installment of our Best of Vegas series, we went through the best high-end casinos. Of course, not everyone can afford to splash out the kind of money needed to truly enjoy these lavish establishments but fortunately Vegas has something for every type of gambler. Many visitors who are on a budget head downtown, to where some of the best deals can be found and the original ethos of Las Vegas as an adult playground still prevails. Downtown's Fremont Street is second only to The Strip in terms of the number of people who travel up and down it each day, and is still known as Glitter Gulch for the amount of neon lights on display and for the famous Fremont Street Experience light show. Below you can find our choices for the best casinos which can be found off the Strip, in downtown Las Vegas.
Binion's Horseshoe Hotel & Casino
128 E Fremont St.
Rooms: 366
Casino Square Footage: 50,000
Most of the big casinos can be found on the Strip, but for a look at "Old Vegas" head downtown to Binion's Horeshoe. Part of the appeal for many who make the trip downtown and stop in at Binion's is that, as one of the first casinos ever built in Vegas and the original home of the World Series of Poker, the place hasn't really changed much over the years. It was built in the 1940s by Vegas pioneer Benny Binion, who knew a good thing when he saw it and his family has kept his vision intact and preserved it accordingly, meaning it's still a place where you can see real cowboys sauntering around in their Stetson hats.
The casino is only half the size of most of the competitors on the Strip, and therefore can't accommodate all of the different variations of games. Still, there are all the favorites and the atmosphere in Binion's is great. The poker room is still a prestigious venue for some of the best players in the world, and it's one of the only places in ultra-modern Vegas where you get a real taste of the Wild West.
Golden Nugget Hotel and Casino
129 E. Fremont St.
Rooms: 1907
Casino Square Footage: 38,000
Opened in 1947, the Golden Nugget is one of the oldest casinos in Las Vegas. Although it has undergone continuous renovations, it still retains most of that Old Vegas charm making it a popular destination for the traditionalists and gambling purists.
It's worthwhile noting here that the casino is quite small, somewhat cluttered, and very heavy on the slots. You can find all of the major table games here and the sports/race book is small but cozy. Despite the slightly cramped layout of the Golden Nugget Casino, the atmosphere is great and, perhaps most importantly, it's still one of the best places in Vegas to get strong and cheap drinks!
The Plaza Hotel and Casino
1 Main St.
Rooms: 1037
Casino Square Footage: 87,000
Located in the heart of downtown and overlooking Fremont Street, The Plaza is a good place to start your gambling tour of the town centre. That said, the casino itself doesn't offer much in terms of pizzazz. Although quite large by downtown standards, it's a tad run down and somewhat drab but nonetheless manages to be full most nights. Perhaps it's the somewhat seedy atmosphere which attracts people. After all if it's glitz and glamour that you're after, then what are you doing downtown?! Also, the low minimum table bets are sure to attract a number of smaller-budget patrons.
Fremont Hotel and Casino
200 E. Fremont St.
Rooms: 452
Casino Square Footage: 32,000
Perhaps most famous as the place where Vegas mainstay Wayne Newton launched his career, the Fremont has been a steady attraction for the visitors of downtown Las Vegas. It's also featured in number of films making it a well-known stop on the casino circuit.
For some excellent gaming opportunities, this well-lit casino is filled with most of the table games imaginable and of course slot machines galore. It's certainly one of the best gaming choices downtown and it's located right in the heart of the action.
El Cortez Hotel and Casino
600 Fremont St.
Rooms: 308
Casino Square Footage: 60,000
Value, value, and more value is how most would sum up El Cortez. You certainly won't be dazzled by the looks of it, but if you're after some cheap accommodation and a budget casino to match, look no further than this one. The location is quite dodgy (the far end of Fremont) but it's only about a five-minute walk to the heart of the downtown hotel and casino area.
We must mention that, along with the rather unusual clientele that most downtown casinos seem to attract, there were also some bizarre house rules at some of the table games which took some getting used to. But, mostly it's a standard low minimum-bet casino with a very rustic downtown atmosphere. As with any casino, whether low or high stakes, you have the opportunity to both win and lose a lot of money.
Four Queens Hotel and Casino
202 E. Fremont St.
Rooms: 700
Casino Square Footage: 50,000
Another budget gem, the Four Queens will satisfy all of your basic demands and occasionally surpass them. A common complaint about the casino at the Four Queens is the service, although we have never had any problems with it. You must remember that you are in a budget establishment and you probably won't find the best cocktail waitresses here. But you will find a buzzing casino and a look at "Sin City" at it's finest.
Note to readers: Please keep in mind that writing a guide to the best casinos in Las Vegas isn't a straightforward thing to do because it all depends on what you're looking for in a casino. There are several things to consider before making your initial selection. Things like, do you want to stick to the Strip? Are you looking for the "loosest" slot machines in town? Where's the best place to get free drinks? Clearly, the type of casino you are looking for depends on the type of gambler you are. We recommend not limiting yourself to one or two casinos, but rather to keep on the move until you find something that strikes your fancy. This guide is merely meant to help get you started, and we hope you find it helpful.