The Best of Las Vegas: High End Casinos When arriving in Las Vegas for a gambling holiday for the first time, it is easy to be overwhelmed by the huge amount of choices out there. After all, new hotel and casino complexes are springing up all the time. In the place which used to be called "Sin City" but has undergone a recent transformation to become "Disneyland for Adults", there are so many businesses competing for your dollars that at least a bit of research prior to your trip is recommended, if not essential. This is why we thought we'd provide you with a rundown of some of the best gambling spots in Las Vegas. In this installment of the series, we'll take a closer look at some of the more glamorous spots in which to try your luck. But don't worry, even if you're not a high-roller these casinos are worth at least a look because they epitomize the lifestyle that just about every gambler dreams of owning.
To give you an idea of the scale of each casino, we have included the square footage and the number of hotel rooms. Keep in mind, these are the Big Boys of Las Vegas. All of the casinos mentioned here can be found on Las Vegas Boulevard, also know as the The Strip.
The Bellagio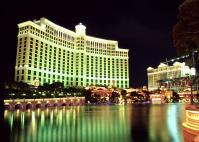 3600 Las Vegas Blvd S
Rooms: 3933
Casino Sq. Feet: 115,000
The Bellagio – Vegas's most luxurious hotel and casino - is sure to wow just about any first-time visitor. Modeled on a real villa in the Italian countryside, the developers of the Bellagio didn't cut any corners in their attempt to bring a piece of European style and sophistication to the desert. The casino is no exception. It features low ceilings with gilded ornamentation and plush fabric draped all over to make small canopies which create a very intimate setting for the serious gambler.
All of the most popular table games are represented, along with a dazzling array of slots and video poker machines. There is a state-of-the-art race and sports book on hand for that type of gambler. The Bellagio also boasts one of the biggest poker rooms in Vegas too. It is home to the "The Big Game" – a high-stakes regular poker session featuring only the best professional players around. If you are looking for a bit of glitz and glamour, definitely check out the Bellagio.
Caesars Palace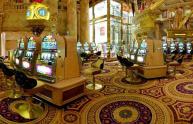 3570 Las Vegas Blvd S
Rooms: 2400
Casino Square Feet: 129,000
Continuing along the lines of favorite hangouts for the rich and famous, the casino at Caesar's Palace is often the choice for many celebrities and high-rollers alike. A stroll through the gaming floor is worth it just to see the amount beautiful women clinging to the arms of their wealthy patrons. If it's a glimpse of the life that you've only dreamt about, Caesar's Palace is a great place to start looking.
The casino features everything you would expect from a world class gaming centre. At 129,000 square feet, it also one of Las Vegas's biggest. Consequently, you can find just about anything you are after, whether it be one of the thousands of varieties of slot machines, a particular table game, or a certain style and level of poker – all delivered with a touch of class. There is also a very chic sports and racing book on hand. In the end, all of your gambling needs and more can be met at this world famous casino located right at the epicenter of the strip.
Wynn Las Vegas

3131 Las Vegas Blvd. S
Rooms: 2700
Casino Square Feet: 111,000
This is Vegas property-tycoon and hotel/casino developer Steve Wynn's latest addition to the strip. It's yet another monster mega-resort aimed at providing everything that one could ever need, all within the confines of one hotel. Like the Bellagio and Caesars, Wynn Las Vegas is also aimed at the upscale client, so if you plan on staying here and gambling at its casino, be prepared to lay down some extra cash for the privilege. Wynn is estimated to have spent an amazing $2.7 billion on it, and no doubt intends to recoup some of that!
MGM Grand Hotel and Casino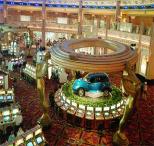 3799 Las Vegas Blvd. S
Rooms: 5034
Casino Square Feet: 170,000
The MGM Grand is a beautiful, massive complex. With over 5000 rooms and a 170,000 square foot gaming floor, it's easy to get lost here (which is often one of the only complaints heard by people staying here).
The casino is extremely spacious and you never get that claustrophobic feeling that you might in other, smaller and more crowded rooms. The service is excellent and the entire complex oozes glamour and style.
The Venetian

3355 Las Vegas Blvd S
Rooms: 4049
Casino Square Feet: 120,000
The Venetian is located at the heart of the famous Vegas Strip, and is of course inspired by Italy's most romantic city, Venice. The opulence of the place is immediately on display as you approach the enormous tower.
The casino has a dazzling array of choices, but geared primarily toward the upscale visitor. It offers more than 122 casino games, and a Luxury race and sports lounge, featuring a complete range of wagering on all major racing and sporting events, including pari-mutuel horse racing.
Luxor Hotel & Casino
3900 Las Vegas Blvd S
Rooms: 4427
Casino Square Feet: 120,000
The Luxor is certainly one of the most physically striking Vegas landmarks, visible to all as the massive Egyptian pyramid located on the southern end of the Strip. Just try and not be impressed by the huge sphinx guarding the hotel entrance and the elaborate exterior design.
From the inside, the casino is just as impressive. Here, a huge gaming floor with more than 1600 exciting games awaits you. The most impressive feature of this casino is its comfort and level of service. In our experience they have some of the friendliest cocktail waitresses in town, always ready with another strong drink for the customers.