GrandNevada.com: Combining Adult Entertainment & Online Gambling As the online gaming community expands and its popularity increases, it can be difficult, if not impossible, to follow all of the changes and advances in the industry. New online casinos, software technologies, and promotional schemes emerge practically every day. Accordingly, the editorial team here at GamblingPlanet will periodically examine and publish information on particular developments which are either noteworthy because of the potentially far-reaching effects or simply their originality.
The recent launch of the GrandNevada.com online casino is one of these developments. What's so special about the emergence of another new online casino, you may ask? Casinos come up with new gimmicks and features, such as live dealers, all the time. GrandNevada.com, however, is the first online casino to offer LIVE Nude Blackjack, Roulette, and Baccarat!
That's right, live NUDE dealers for 3 of the most popular casino games around. While the concept might not appeal to everyone, and we're not saying it should, it nonetheless is the type of development that could have a major impact on the online gambling and adult entertainment communities.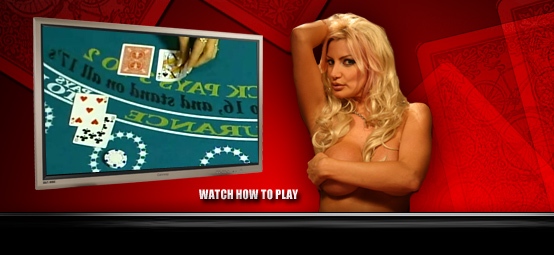 While some interested players (adults) will be drawn to the site simply by the presence of its nude dealers, there's plenty of other advantages to GrandNevada's approach. At this online casino - which features 45 casino games in total - all cards are dealt LIVE with full real-time video and audio. Players can thus see and hear the action (shuffling, dealing, spinning, etc.) as it occurs as opposed to relying on the safety and integrity of computer programs and Random Number Generators. For those of you distrustful of online casinos and games or fearful of manipulated or biased software, this type of technology might be perfect for you.
On top of that, and marking perhaps the principal draw of the site for many players, beautiful Nude female dealers carry out all of this real-time dealing and action. All blackjack hands are dealt LIVE by the dealers, all spins of the roulette wheel are LIVE, and all baccarat hands are LIVE with a real nude dealer and bank. Players can even check out the dealers' schedule to find out which dealers (including adult entertainment star Brittany Andrews and women from Carmen Electra's NWWL) are working at specific times and at specific tables.
Brought to you by 121Gaming, GrandNevada.com is also looking for new affiliates to help attract new players and boost its popularity. If you ask us, live dealer technology combined with beautiful nude models probably sells itself, but GrandNevada, through it's Nevada Pays affiliate program, is looking to accept a very LIMITED number of affiliates. Space at their tables is limited, however, and so the site (intentionally) can only accommodate a small number of the best affiliates around.
While it may not be for everyone and will certainly create a fuss amongst some people, GrandNevada's LIVE nude dealer approach is sure to appeal to many and it wouldn't be surprising if this technology and idea explode in terms of popularity. With beautiful models, live real-time dealing technology, the same sort of payment options available at most online casinos, top-notch security measures, and a solid gaming platform, GrandNevada.com seems well prepared to springboard from a unique idea to a successful and well-established product.