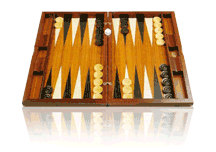 Similar to our Online Poker subsection, we've chosen to also include, underneath our "Games" heading, an entire section dealing with backgammon and its ever-increasing presence online.
An immensely popular game throughout the years, backgammon has recently become a popular online-gambling activity for many Internet gamers. The game itself combines both luck and skill with elegantly designed mechanics--the main reason, no doubt, that it attracts so many different kinds of players. While backgammon isn't readily available in most online casinos, its emergence on the scene certainly warrants giving it some treatment on our site. What follows is simply an introduction to this popular game and, therefore, not necessarily a complete and comprehensive analysis. Nonetheless, check back often as we're constantly working to update our content and add new articles daily.
As you can see, we've divided the information below into three subsections. The titles are fairly self-explanatory and straightforward. Go ahead and visit some of the pages below to get a better idea about each of the featured subjects!
General Rules
The links below will take you to pages where you can find the basic rules and concepts behind the most popular backgammon variations. If you're just starting out and/or need a refresher on the game's rules and procedures, this is the place to start:
Strategy
For those of you who are already familiar with the game, or even for novices who may want to hit the ground running with a broader notion of the game and its nuances, the strategy pages below provide a good starting point: