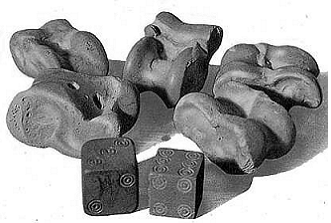 When most of our readers sit down to play a game online, they don't think about the journey each game has made through history and the world, but even the newest casino games can trace their roots back hundreds of years and across continents. Some games, like Pai Gow, can actually trace their origins back thousands of years to ancient times. Computer games are only the latest incarnation in the evolution of games. We may not know where games are going next, but we certainly know where they came from.
The First Games
These days, gambling is a very clean and sophisticated experience. Every game has its place in the casino, and in each of those places you'll find a table layout or a machine. On every machine are the same buttons, and on every table there's a designated space for every implement of the game. There was a time, not so long ago, when every slot machine was different and handmade. There was a time when card players made their own decks. There was a time when roulette was played strictly by the elite, and when craps players crouched in the dirt to shoot their dice. Even these early incarnations of the popular casino games we know and love were not the beginning.
In the beginning, the first gamblers could not have even conceived of video poker or slot machines. There was no poker or blackjack because there were no cards. There were no cards because there was no paper. Some gambling historians speculate that the first rudimentary civilizations may have played games with sticks and stones, not as sport but as a form of divination. The earliest gambling implements come from ancient Mesopotamia. Some dice-like stones and bones date as far back as 6000 BC while the first six-sided dice date to 3000 BC and are nothing more than a numbered set of knuckle bones. Similar bone and ivory dice (including some made from human teeth) have been found in China too, dating to roughly the same period in time. It was from these that the first primitive tiles—predecessors to Pai Gow—were created.
The Beginning of Gambling
By 3000 BC, early Chinese, European and Middle Eastern civilizations were gambling for fun and money. Greek mythology incorporates dice games between the gods. Dice also appear in early Indian literature, and ancient Egyptian hieroglyphs suggest early rules and regulations for their dice games. From what we have found, it seems that the Egyptians were also the first to start creating more standard, cube-like dice. This advancement started in approximately 2000 BC.
By 1000 BC, games were a part of everyday life in China. They created elaborate tile sets with even more elaborate rules. By 500 BC, game boards were in regular use, and before the next millennium civilizations around the world were regularly engaging in what could easily be called the first sportsbooks; betting on fights and races between animals and humans alike. The first Olympics, for example, were nothing more than a huge gambling enterprise.
The Next Step
At the beginning of the next millennium, China invented the first primitive form of paper. While this is generally credited to Ts'ai Lun and attached to the date of 105 AD, earlier forms have been found that predate Ts'ai Lun's by as much as two hundred years. This advancement—the creation of paper—would pave the way for more elaborate yet portable types of games: those involving the first playing cards. As the world transformed radically over the next two millennia, so too did gambling.