Of the hundreds of different strategies out there, probably the best way to beat slots is simply to play the machine most suited to your play preferences. And yet this advice in itself is far trickier than it sounds because, while they might all look alike, any two slot machines can be about as similar as toast and train cars. Choosing, for instance, between a progressive quarter slot with 12 pay lines and a $1 million pot, and a three-line, $1 machine that has a maximum $1 million jackpot, can be next to impossible if you don't know how they differ. But even more confusing can be deciding how to play once you sit down: Assuming that you end up going with the progressive machine, how many pay lines should you play; or say you hit a double-or-nothing bonus on the three-line machine, should you go for it or, as the song says, "take the money and run"? In our second guide to slot machines, "Reeling Redux," we'll answer all these questions and more, giving you everything you need to walk away from the casino's slot banks a winner!
Five More Ways to Beat Slots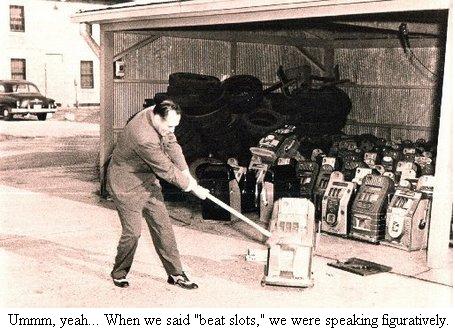 Tip No. 5 – Consider the payout percentage:
The answer to the question "How do you beat slots?" really depends on your definition of "winning." If you want a slow, steady, consistent return, you should play slot machines that advertise a high payout rate (e.g., 95 to 99 percent). If you're dreaming of that huge, multi-million-dollar jackpot, though, you're only going to find it with progressive slots. These machines add a fraction of each bet to a huge jackpot that may cover several casinos, states or even countries. While the odds of winning at these machines are extremely low, their life-changing payouts make playing them worth the risk to many slot players.
Tip No. 4 – Play the maximum coins on every spin:
This idea is among the most valuable techniques you can use to beat slots and win big jackpots. You should always bet the maximum number of coins whenever you can, particularly if you play on progressive slot machines. In most cases, holding back a single coin on a progressive slot can cost you a million-dollar payday!
Tip No. 3 – Follow the winners:
No, this doesn't mean you should trail a winning player to the parking lot and steal his money; it means that, if another player has found a slot machine that pays out consistently, watch that machine and wait for it to become available. The same idea applies to losing machines: If a player is grumbling about his bad luck, avoid that iceberg and don't let your bankroll sink like the Titanic.
Tip No. 2 – Remember the "Hot on one side, cold on the other" rule:
You may think that instead of waiting for a hot machine to open up you should try a similar machine in the same row or slot bank. The casinos know you'll use this line of reasoning, which is why they put ice-cold machines next to their red-hot ones. If you find a loose machine, chances are those around it are as tight as an Irishman on St. Pat's, and your bankroll may be better served by either waiting for the good machine to open up or finding a different machine, slot bank or casino. Remember: It's up to you to beat the slots; don't let them beat you.
Tip No. 1 – Don't double your trouble:
Another mistaken belief similar to the one above is that you can increase your chances of winning by playing multiple slots at once. The problem with this idea is that, even though doing so might help you find a hot slot faster, the number of machines you play doesn't affect your payout odds on each machine. What's more, players who land on a hot machine and play those around it too will inevitably only double the rate at which they deplete their bankroll. Think about it: If casinos put all their hot machines in one space, why would so many players be scattered around the floor? Simply put, they wouldn't be.


- Gerald Hanks
phill.provance@gamblingplanet.eu
TO AVOID LEGAL REDRESS UNDER INTERNATIONAL COPYRIGHT LAW, REPRINTERS MUST CITE THE NAME OF THE ABOVE ARTICLE'S AUTHOR, THE E-MAIL ADDRESS OF ITS EDITOR AND ALL LINKS PERTAINING TO THE PUBLISHING SITES (www.gamblingplanet.eu and poker.gamblingplanet.eu).