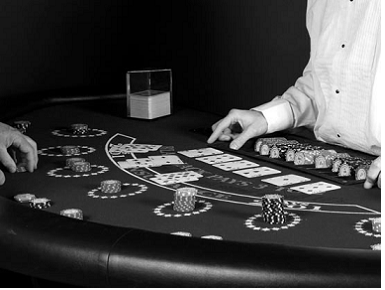 When most gamblers think of their favorite casino, they think of the games they like to play. What we as players often overlook are the hundreds of people it takes to make a live casino run as smoothly as an online one. Casino dealers generally escape the notice of their table patrons until one has a bad run of luck. There's money to be made as a dealer at a major casino, but it's a demanding and often depressing job.
Becoming a Dealer
For people that grow up in a major gambling destination like Las Vegas, the prospect of a gambling-related career is an ever present one. Travel and tourism programs are offered through high schools and are one of the most common majors in colleges like UNLV. The casino staffing agencies set up their booths right next to the National Guard at career day, and while they extol the benefits and solid pay of hotel positions, they also remind the casino-oriented kids to get in touch when they turn 21. Dealing has also become a popular career choice among many of the older immigrants coming to Las Vegas.
Of course getting a good dealer position is about more than being in the right place at the right time. While some of the smaller, local casinos offer in-house training programs for potential dealers, in the bigger gambling cities the casinos will only take dealers that have trained at a recognized card school. Learning a single game can sometimes cost upwards of $800, an expense that is not reimbursed by potential employers.
Dealing in cities like Las Vegas is controlled by a seniority-based hierarchy. As a general rule, no formal training = no job. Most of the dealing positions at the smaller casinos are filled through the card schools while the larger casinos often vet more experienced dealers from their competition. It takes years of weekend shifts at off-strip dives to work your way up to a swing shift at the Bellagio. While dealers at the big casinos make decent money, their pay is ultimately determined by their patrons. Virtually all of the casinos pay their dealers the same base wage...as in minimum wage. Using this information, the U.S. Bureau of Labor Statistics calculated that the average taxable income for a dealer was only $14,340/year. But a Bellagio high stakes dealer can easily make over $100,000/year. The difference is in the tips. That's why high stakes tables and weekend shifts are in high demand among dealers, and that's also why you see the worst dealers on off days and hours at the smaller casinos.
Dealer Challenges
A dealer's job may seem easy, and at face value it is. All they have to do is deal the cards, spin the wheel, or pass the dice right? It's when you add players to the big picture that things get messy. Dealers work under a very strict code of etiquette, but that doesn't make dealing with some drunk that's playing Indian Poker at the Texas Holdem table any easier. Then you've got your angry players, your confused players, your depressed players, and your cheaters to deal with.
Many casinos advise their dealers not to say "sorry" to losing patrons. This is for two reasons. First, it prevents players from focusing on their losses longer than necessary, and second it prevents dealers from unwittingly taking the blame. Sour players are often all too willing to blame their bad luck on the dealers. And remember that an unhappy table means no tips, and no tips means the dealer's putting up with all that BS for minimum wage.
Dealer Players
If you spend enough time around the poker rooms in Vegas, eventually you'll run into an opponent that's still wearing their name tag. Many dealers are also amateur players that enjoy betting their own games off-hours. While some casinos ban employee access to their games, most are as happy to take their money as they are to take anyone else's. A lot of amateurs get bent out of shape when they realize they're playing a casino employee, but bear in mind that one false move (even off the clock) will permanently end their future as both a dealer and a player.