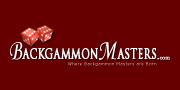 Updated Tue, 05/12/2009 - 15:28
BackgammonMasters.com, or the 'World Backgammon Network', should be one of the first stops for anyone looking to try out exciting, and relatively new, world of online backgammon. For those of you who have already been playing online for a while, if you're not already familiar with BackgammonMasters (we'd be surprised), this is certainly a destination you need to check out.
First of all, BackgammonMasters.com owns and operates its own proprietary backgammon software. The company says this enables it to respond quickly to competitive challenges, and we don't doubt it. However, more importantly, we think such an approach provides a truly unique online gaming experience when compared to other rooms with software that is not always easily distinguished from the crowd. Although we would indeed have a problem if the software at BackgammonMasters were inferior, this is not the case. The software here is easy to use and is marked by a sleek and engaging interface. There are options, of course, for table view, board only, and with a bit of background. You can even choose, if you like, to play against an avatar. In terms of games, BackgammonMasters has made four types available: single play, match play, Hyperbackgammon and open table. All in all, this is a backgammon site with loads of options, and we're certainly fans of that. For newcomers, it's also important to note that the site offers a live, step-by-step guide for installing and using the software.
Other cool features mark this site as well. There is the option to select 'auto bear-off', which automatically move checkers off of the board when they can be moved into the rack or even 'auto Pointer', which allows players to see the possibilities to move the checker when they scroll their mouse over it. The site's 'hyperbackgammon' game, while similar to a regular backgammon, is played much faster and with less checkers. Here, you have only three checkers and all of them are in the opponent's home board! A nice change of pace for anyone looking for some backgammon eal money games and player trafficvariety. There are also many tournaments offered here including, but not limited to, daily Freerolls with prize pools of up to $750 and a variety of Sit 'N' Go tournaments.
In terms of promotions, BackgammonMasters does pretty well. Depositing up to $50 will get you a 20% Bonus and referral bonuses are available as well - each friend you bring in, they'll receive a free $10 and you'll get a nice $20. Although there's a limit of 100 invitations, we don't think most people will get near that. As for the rake/commission at BackgammonMasters, this depends on the stake, winnings, and the type of game you're playing (single vs. match) so it is not determined by a percentage. The maximum rake, however, is $5.80 for a $40 stake and $200 total win. In match games, the rakes goes up along with the stake, the number of games played, and the total win, yet the maximum is only $5.10.
Overall, as we mentioned before, BackgammonMasters is a great site to begin your backgammon experience or for a change of pace from some of the other more 'typical' sites. With unique - yet high-perfomance - software, great customer support (available 24/7), top-notch security and an attention to detail rarely matched elsewhere, BackgammonMasters.com is certainly worth a visit. Check it out and let us know what you think!
General Information
Website
BackgammonMasters.com
Software
Proprietary
Supported languages
10
Payment Options
Visa/MasterCard, Diners, Solo, Switch...


Delta, Ukash, PayPal, Visa Electron, NETeller, ClickandBuy, MoneyBookers, Wire Transfers

Payout Methods
NETeller, ClickandBuy, MoneyBookers, Wire Transfers ...

Jackpots
No
Bonus Information
Bonus Match (%)
20
Deposit Minimum ($, €, £)
20
24/7 Support
Support Email
support@backgammonmasters.com