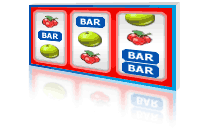 Here we explain the different probabilities of beating slots games. As you already know, there is no logical strategy to use when playing slots. Much of your success depends on finding the machine with the greatest payback percentages and, of course, getting lucky.
Attempting to pinpoint the odds for slot machines is a difficult and complicated task. With such a variety of machines and games available, the odds can vary considerably.
Generally, slots odds are expressed in the form of a payback percentage, as mentioned above. The closer they are to 100%, the better.
Loose Slots
Some machines even pay back at percentages greater than 100%, giving those fortunate enough to find them some very positive results. These so-called "loose slots" are often strategically placed within a sea of machines on a casino gaming floor. Their purpose is to give off the impression that people are winning.
For quite some time, casino operators placed the highest paying machines in high-traffic areas like entrances, bars, and near lines for buffets or shows.
The logic behind the specified placement of higher paying machines was that since they produced more winners, they would also create more excitement from passers-by, making other players more likely to play at surrounding low- to average-paying machines. Of course these kinds of tactics used by the casinos are irrelevant for the online player, but it's good to know how slots are operated.
Slots Odds Back in the Days
All of this, however, doesn't really give you a better understanding of the probabilities of the slot machines. The first slot machines were mechanical, and the odds could be calculated by multiplying the number of symbols by the number of reels.
For example, the first slot machine produced had ten symbols each on three reels. Therefore, the probability of matching all three was 10 X 10 X 10, or 1000 to 1.
Slots Odds Today
In this day and age, the land-based machines are operated by computers. It is impossible to determine the odds exactly, so instead we focus on the payout percentages.
The average house edge is calculated at roughly 9%. In the long run, any particular machine will give you 91 cents for every dollar played. Naturally, people would not play slots if every time they put a dollar in they got 91 cents back. Instead, a slot machine is programmed to return deposits explosively, and this volatility is what makes slot playing so attractive.
Learn more about basic slots techniques and tips at our Slots Strategy page.
In live casinos, it didn't take long for avid slots players to figure out this simple strategy, so managers shuffled things up a bit. Reverse strategies were employed, putting low-paying machines in high traffic areas, and vice versa.
These days, there really is no standard procedure except that the machines, themselves, still offer a mix of payout percentages with some high and most being low to average.
The bottom line is: When you play slots online, compare payout precentages and choose the best machine.