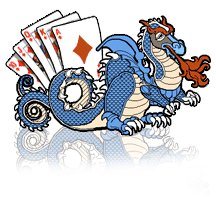 On this page, we'll give you some sound playing advice that will enable you to increase your chances of winning when playing this interesting form of poker. In Pai Gow, the player needs to skillfully set both hands strong to win. The house has a 2.3% advantage in this game, but that, of course, is only when you do all you can to keep that edge at its lowest. Consider these quick and simple pointers to begin:
Try to make both hands fairly strong in order to win the two - otherwise, you will end up with a tie.
Your back hand must be set higher than your front hand or you will "foul" your hand and lose your bet.
Now, for setting your hand, follow the guide below to optimize the odds for beating the dealer. The following is a brief description of what to do with the most common hands. In the first column is what you have been dealt. The second and third column is how you should redistribute these cards.
| | | |
| --- | --- | --- |
| Your Hand | Back Hand (5 cards) | Front Hand (2 cards) |
| No Pair | Highest card | Second and third highest |
| One Pair | Pair | Next two highest cards |
| Two Pair (one of them Aces) | Pair of Aces | Other Pair |
| Two Pair | One Pair | Other Pair |
| Three Pair | Second and third highest pair | Highest Pair |
| Three of a Kind | Three of a Kind (Unless 3 Aces a place 2 in this hand) | (3 Aces a place 1 Ace here) |
| 5,6,or 7 card Straight | Lowest cards to complete the Straight | Two highest cards that keep the five card hand's straight |
The chart above deals with card-setting for the most common hands. For a more in-depth strategy guide, check out Stanford Wong's `Optimal Strategy for Pai Gow Poker'. This book is geared for the advanced player, but contains information on a range of subjects to make it useful even for the beginner.
To learn more about the odds of Pai Gow Poker, check out our Probabilities Page.